Having a damaged, thickened or discoloured nail can have a significant impact on your confidence and can make you avoid having your toes showing in footwear. Nail Reconstruction, or the application of a prosthetic nail, can change the way you look at your toes and others look at your toes. Nail Reconstruction is a cosmetic procedure carried out by Podiatrists which involves applying layers of specialist gel to create a prosthetic nail that looks and feels like nail. Although the process is similar to the application of Gel nails, it is a very different procedure. Dependant on how much of your own nail is present, Nail Reconstruction can last upwards of 4 weeks and can help to cover up unsightly, damaged or discoloured nails. If you have had your toenail completely removed surgically then we can still carry out Nail Reconstruction however often the prosthetic nail will only last a day or so due to the secretion of natural skin oils.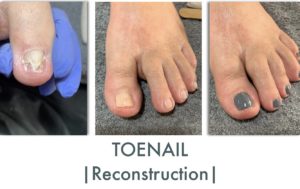 45 Channel Street, Galashiels, Scottish Borders, TD1 1BJ.
Located in the heart of Galashiels with on street parking, our ground floor clinic is wheel chair accessible and is a 2 minute walk from the transport interchange and car parks. Our fully equipped clinic also has a treadmill and video gait analysis lab with space for MSK rehabilitation, gait retraining and strength and conditioning.
Call to Book a Home Visit