Sports Podiatry and Gait Analysis
Sports podiatry is the assessment, diagnosis and treatment of foot, ankle and lower limb injuries which occur during activity and sport. The way our foot interacts with the surface it is on can have significant impacts upon the load and stress placed on this tissues within our body. The primary difference between walking and running is that we have "flight time" during our gait which is the time when we do not have any contact with the ground. This means the foot, and leg, which then lands on the ground has to deal with significantly more ground reaction forces and the speed that the muscles, ligaments, tendons and joints are loaded is very high. If abnormalities in function, stability, strength and mobility are present then this can be enough to cause tissue damage and injury. Our MSK Sports Podiatrist, Dan Broadhead, can carry out a biomechanical assessment, strength and mobility tests and gait analysis to determine the cause of your injury and get you back on the road to recovery.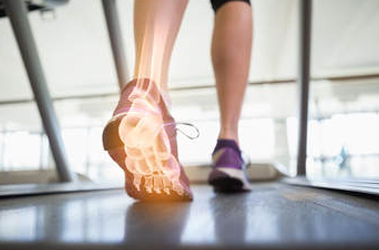 45 Channel Street, Galashiels, Scottish Borders, TD1 1BJ.
Located in the heart of Galashiels with on street parking, our ground floor clinic is wheel chair accessible and is a 2 minute walk from the transport interchange and car parks. Our fully equipped clinic also has a treadmill and video gait analysis lab with space for MSK rehabilitation, gait retraining and strength and conditioning.
Call to Book a Home Visit